Washington State Psychological Association
Sent Date: 12/31/20



Vol 76. No. 1 – December 30, 2020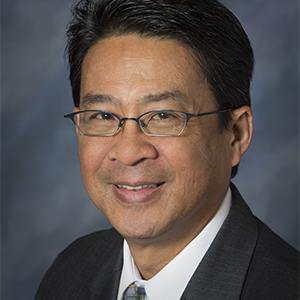 Message from WSPA Executive Director
WSPA started 2020 with great goals and intentions but then the COVID-19 pandemic hit and what we all knew as normal was replaced with a lot of change and disruption for everyone. Yet with all the hardships 2020 will be known for, WSPA rose to the challenge and survived the year financially better than expected in comparison to the past three years.

None of our successes could have happened without the support of our incredible Trustees and members, so to that I say thank you for making WSPA the Best and Outstanding State Psychological Association in the nation! Read on to understand how I can make that claim!

I hope you will enjoy this 2020 Year in Review.

Marvo Reguindin
Executive Director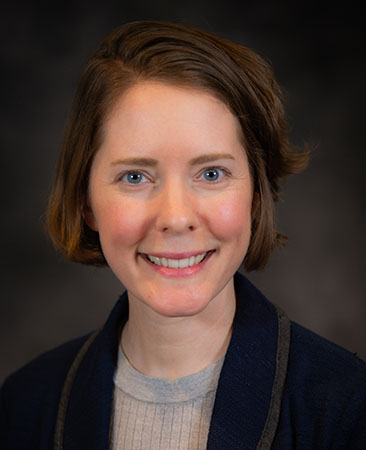 Message from 2020 Board President
Dear fellow psychologists,
I am confident that we are all tired of the many adjectives we've used to attempt to capture the experience of being a human in the world during 2020, so I will not trot any out here. It has been, simply, quite a year.
As you would guess, I did not expect to be the president of WSPA during a global pandemic. The role is a privilege under any circumstances, and this year was actually not exceptional in that regard. I have been awed by our profession's extremely quick pivot to the world of telepsychology, and tremendously moved by your ongoing dedication to serving your clients and patients, even while living in the same circumstances that have precipitated an ongoing and likely lengthy mental health crisis in our country and across the world.
This year, WSPA members have done remarkable work in everything from pandemic response, legislative advocacy, community building in our chapters, supporting early career psychologists and graduate students, ethics consultation, continuing education, a speaker's bureau, to the "good trouble" of working to make WSPA an anti-racist organization. I commend each and every one of you who took time out of your busy lives to give back to your colleagues, the students who are the future of our field, our profession, and the communities in which we live and work. I am honored to know and have volunteered alongside you.
It gives me great pleasure to say that I am completely confident that our incoming president, Dr. David Wiesner, will be an exemplary steward for our organization and advocate for our profession and the people we serve. He brings a wealth of experience to the position, dual passions for psychology and service, and insightful ideas about how to innovatively further our mission. 2021 is going to be a great year for WSPA (and I hope more broadly than that, as well).
Thank you for inspiring me, motivating me, and collaborating with me.
In gratitude,
Julia Mackaronis, Ph.D.
WSPA Board President, 2020
2020 Trustees Start the Year Planning
2020 started started off normally for WSPA's Trustees. In January, the board met in person in Bellevue, WA to elect officers followed by a half-day retreat to plan the year and set goals.

Outgoing board president Dr. Dominika Breedlove handed over the meeting to incoming 2020 president Dr. Julia Mackaronis. The 2020 slate of officers that were elected and board members included:
President - Julia Mackaronis, Ph.D.

Present Elect - David C. Wiesner, Ph.D.

Secretary - Debbie Shapiro, Psy.D. (attending via Zoom)

Treasurer - Russ Hanford, Ph.D. Dr. Hanford was also Treasurer in 2015 and 2016. He was appointed in 2019 to fill in Dr. Sonia Venkatraman's last year of her term.

The rest of the board consisted of Dominika Breedlove, Psy.D. - Past President, Casey Ward, Psy.D and Shelley Mackaman, Ph.D. WSPA staff in attendance included Executive Director Marvo Reguindin and Samantha Slaughter, Psy.D., Director of Professional Affairs.
During that meeting, the board discussed:
A replacement and transition options for WSPA's Council Representative, Dr. Marta Miranda, who had informed the board she was moving to Washington, D.C.

Long term-financial stability

Board recruitment and membership acquisition and retention

2020 operational plans

Board team building

2020 operational goals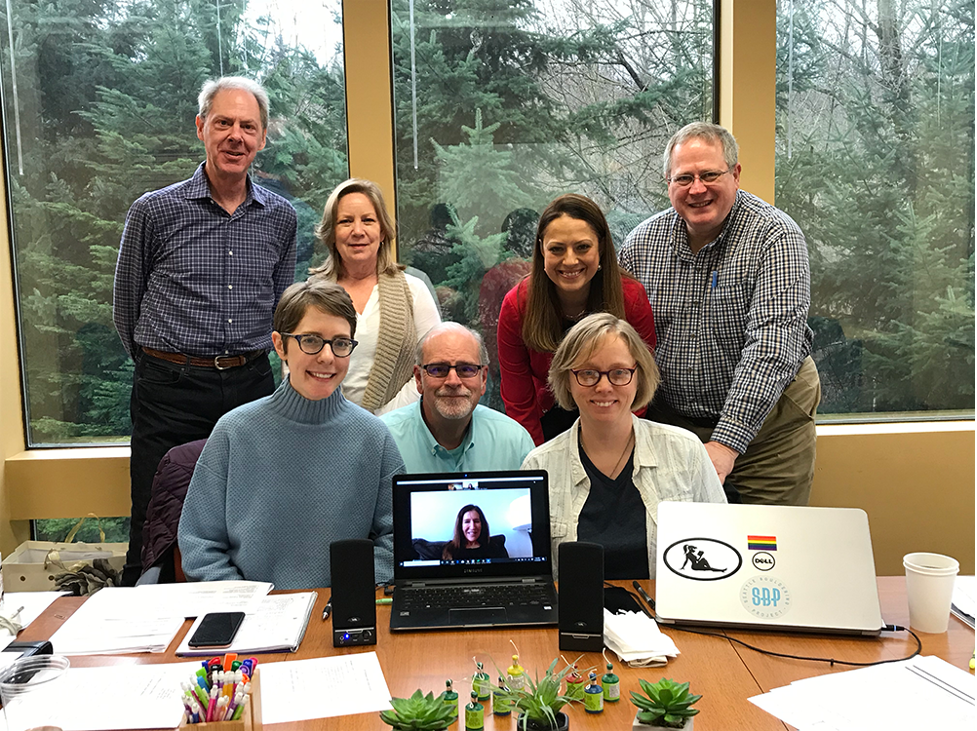 Left to Right: Front Row. Dr. Debbie Shapiro (Laptop), Dr. Julia Mackaronis, Dr. Casey Ward, Dr. Samantha Slaughter.
Back Row, Dr. Russ Hanford, Dr. Shelley Mackaman, Dr. Dominika Breedlove, Dr. David C. Wiesner
The Legislative Advocacy Committee
The Legislative Advocacy Committee is in its second full year and working with a new lobbyist, Melanie Smith. Casey Ward, Psy.D. is now joined by Julie Johnson-Sharrette, Psy.D. as the committee co-chairs. The 2020 legislature was a short session that began in January, and under the guidance of our lobbyist, LAC saw 9 bills that WSPA supported become law.


WSPA's mission includes the goal to advocate for public policies that promote psychological services, the field of psychology, and a psychologically healthy Washington. WSPA has historically considered its highest legislative & regulatory priorities to be: retaining the integrity and strength of our licensing statute or affective our disciplinary process; responding to any bills that affect how we practice; opposition to any infringement of our state mental health parity mandate; and responding to social justice bills that directly affect treatment and/or access to care.


Bills the LAC supported that became law:

HB 2642: A type of parity bill for Substance Use Disorder treatment
HB 2411: Requiring two levels of Suicide Assessment Continuing Education
HB 2426/SB 6274: Increasing safety in psychiatric facilities
HB 2568/SB 6404: Increase transparency in prior authorization procedures
HB 2770/SB 5385: Mandates same reimbursement for telehealth as in-person services
HB 2758: Allow 911 workers to get L&I coverage for PTSD
HB 2338: Prohibit discrimination in healthcare coverage
HB 2099: Allowing the use of video technology in involuntary commitment
HB 2926: Increase critical incident debriefing services to law enforcement

Bills the LAC opposed or had concerns that did not become law:

HB 1826: Allowing disclosure of PHI upon discharge
HB 2563: Providers to supply demographic data with successful suicides
HB 2355: Allows alternative licensing

Bills the LAC supported that did not become law:

HB 2615: Create a primary care collaborative that would include psychologists
SB 6258: Increase services to native Americans concerning suicide/addiction
SB 6553: Increase access to MH services to gun violence victims
SB 6556: New online portal for child/elder abuse reporting
SB 6591: Improve behavioral health advanced directives

For details of these bills: www.leg.wa.gov and search for "bills".

If you are interested in LAC's work, please email either Dr. Casey Ward at drcaseyward@gmail.com or Dr. Julie Johnson-Sharrette at dr.jjsharrette@gmail.com
PLC and 2020 APA Outstanding STPA of the Year
In early March, WSPA's sends a delegation to APA's Practice Leadership Conference (PLC). At the conference, State Territorial Psychological Association (SPTA) leaders and APA representatives network, learn, and also lobbied on Capital Hill with our Washington State Members of Congress. Our delegation consisted of:
Julia Mackaronis, Ph.D. - Board President Delegate

David C. Wiesner, Ph.D. - Federal Advocacy Coordinator

Samantha Slaughter, Psy. D. - Director of Professional Affairs

Phoukham "Kelly" Bounkeua, Ph.D. - Diversity Delegate

Madeline Brodt, American Psychological Association Graduate Student Delegate

Marvo Reguindin, Executive Director
News of the COVID-19 infections in the U.S. from Washington State were just beginning to be reported as PLC began. Naturally, that had everyone concerned and delegates began to practice safety precautions of additional hand washing and elbow bumps instead of handshakes.

During the Sunday SPTA Awards, WSPA was awarded APA's 2020 Outstanding SPTA of the Year for its 2019 achievements, which included establishing a Legislative Advocacy Committee, reviving the Disaster Relief Network, being awarded an APA Legislative Grant, hiring a new Director of Professional Affairs and lobbyist, continued Executive Director leadership on the Council of Executives of State and Provincial Psychological Associations (CESPPA) Executive Committee, and ending the year with a positive net financial gain for the first time in 10 years.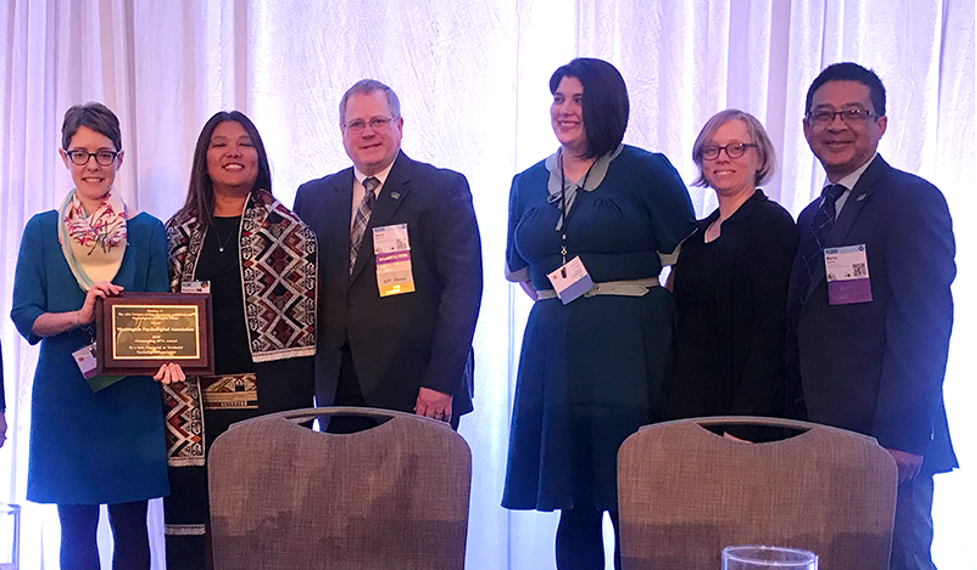 Accepting the Outstanding SPTA of the Year of the Award on Stage
Left to right: Dr. Julia Mackaronis - SPTA President Delegate, Dr. Kelly Bounkeua - Diversity Delegate, Dr. David C. Wiesner - Federal Advocacy Coordinator,
Madeline Brodt - APA Grad Student Delegate, Dr. Samantha Slaughter - Director of Professional Affairs, Marvo Reguindin - Executive Director
PLC and Lobbying on Capitol Hill
The last day of PLC is spent lobbying with Washington's Congressional representatives on matters that effect mental health and the field of psychology. The delegation was split into two teams and were able to visit every Washington State Member of Congress or their office to lobby on the following three points:
Adding psychologists to the physician definition in Medicare and asking our legislators to co-sponsor the "Medicare Mental Health Access Act" H.R. 884, S 2772. Overall, there was some success here: the bill had a hearing this year which is the farthest it has gotten yet.

Regarding proposed 7% reimbursement cut in Medicare: we encouraged our legislators to tell CMS to safeguard psychologists' services from Medicare reimbursement cuts next year. Unfortunately, we were not successful and cuts are coming.

Psychology Workforce Appropriations: We asked our legislators to please include the Graduate Psychology Education (GPE) Program and Minority Fellowship Program (MFP) among their appropriations priorities for FY21. Fortunately, this was a success!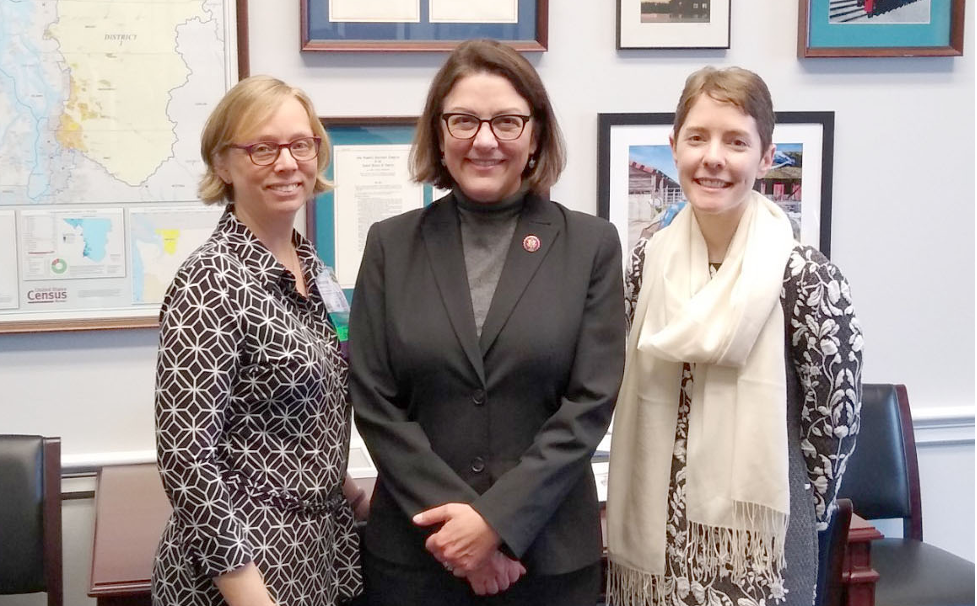 Left to Right: Dr. Samantha Slaughter - Director of Professional Affairs, Representative DelBene, Dr. Julia Mackaronis - SPTA President Delegate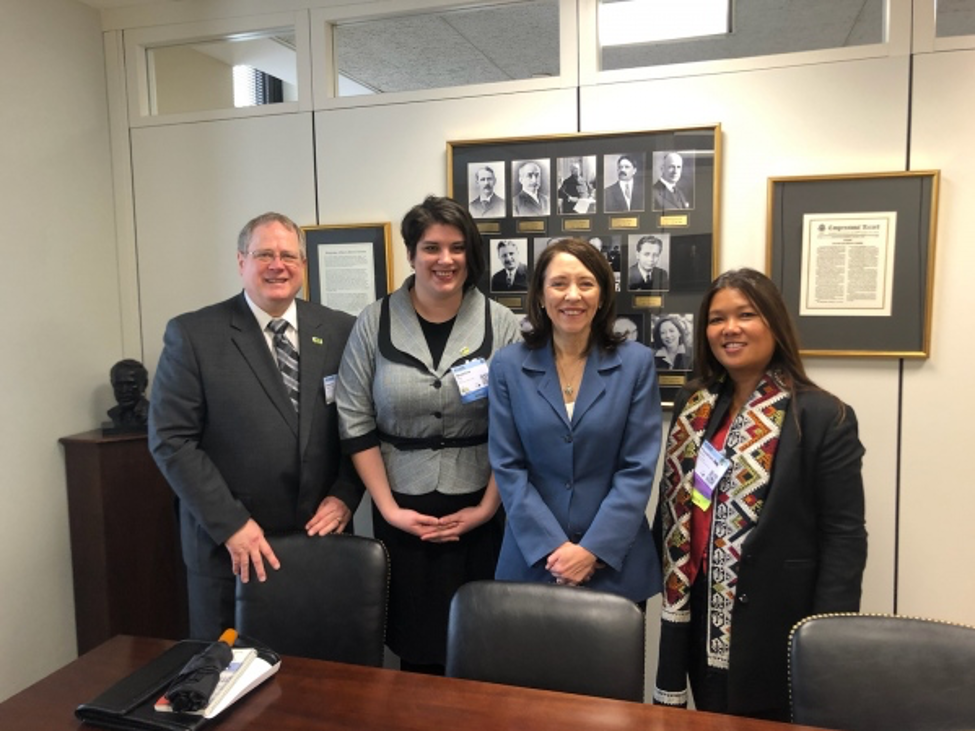 Left to Right: Dr. David C. Wiesner - Federal Advocacy Coordinator, Madeline Brodt - APA Grad Student Delegate,
Sen Maria Cantwell, Dr. Kelly Bounkeua - Diversity Delegate
WSPA's Disaster Response Network Responds to COVID-19


The best time to prepare for a disaster is before it happens. Psychologists have responded to natural disasters such as hurricanes and earthquakes, and human-made disasters such as mass shootings. In 2020, the global COVID-19 pandemic has challenged governments' and organizations' abilities to respond. Many state psychological associations also found themselves challenged with little bandwidth or experience to respond to their members and have needed to direct their members to APA's website for help.

Fortunately for us, WSPA Trustee Debbie Shapiro, Psy.D., is a trauma expert with years of experience in disaster mental health both locally and nationally, and she helped WSPA respond to the COVID-19 pandemic in a big way. She has worked with the American Red Cross, Public Health Reserve Corps, and has repeatedly been called upon to provide disaster mental health services after natural and human-made disasters. After the outbreak of COVID-19 in China, Dr. Shapiro provided virtual psychological first aid to people in quarantine in Wuhan. In short, Dr. Shapiro is a disaster relief Rockstar!
Debbie joined the WSPA Board with a goal to revive WSPA's Disaster Relief Network (DRN) and began organizing the DRN in 2018 to get volunteers trained through the American Red Cross. At the 2019 Fall Convention, she organized a DRN information table to recruit volunteers into the DRN and began to network with state and national organizations in disaster preparedness.
Fast forward to March 2020, when the first cases of COVID-19 in the U.S. were reported in our state. As Governor Inslee began giving recommendations for social distancing, wearing masks, and personal hygiene to begin flattening the curve, Dr. Shapiro and WSPA Board members, including those attending Practice Leadership Conference in D.C., began collecting information about the virus and on transitioning to telepsychology to create a dedicated webpage on COVID-19. As the content on the page began to grow, WSPA President Julia Mackaronis, Ph.D. began sending members weekly updates of the available content and encouragement for members to be safe and support each other. An ad hoc committee also worked on reopening guidelines with considerations for practitioners weighing what they might need in place to resume seeing clients in-person when able to do so safely. See the next article for a list of ways WSPA responded to COVID-19.

WSPA's Director of Professional Affairs (DPA), Samantha Slaughter, Psy.D., also contributed, providing timely information on telehealth during shutdowns and insurance billing in the ever-changing landscape. She also saw the need for advanced telehealth training and with WSPA Member Dr. Kathleen Pape, developed a CE workshop held in May that was well-attended.

Dr. Shapiro has been meeting weekly with the WA State Dept. of Health, WA Voluntary Organizations Active in Disasters, WA Health Authority, and the American Red Cross, monitoring the mental health needs in our state. It became clear how many frontline and essential workers were suffering from burnout and trauma. Anticipating their need to access mental health therapy, Dr. Shapiro asked for DRN & WSPA volunteers willing to provide 1-2 hours of therapy time. WSPA staff then created a searchable database of volunteer psychologists. Former WSPA Executive Director, Dr. Doug Wear, who is now at Antioch University, reached out to WSPA to let us know about their free clinic that is available to frontline workers. Dr. Shapiro and WSPA Executive Director, Marvo Reguindin acknowledged there will be great need and wholeheartedly agreed to support each other's program. Information on the Antioch program is found on the last topic bar on our COVID-19 page.

With the recent November/December spikes in COVID-19 infections, we know that requests from frontline and essential workers, as well as others affected, will continue. A tile graphic has been added to the website to link to the volunteer network. Additional volunteers are always welcome to support the need across the state. If you would like to join WSPA's COVID-19 Volunteer Network, please fill out the form at this link.
14 Ways WSPA Responded to the Pandemic
Distributed monthly behavioral health forecasts and newly developed resources, including those for individuals, groups, workers, and populations at high risk.

Quickly disseminated information for our members and healthcare workers on best personal and professional practices by early March 2020, and followed up on this initial information with guidelines to consider when portions of our state moved to reopening.

Provided training opportunities for our members and the community via workshops, online courses, and links on a wide variety of topics relevant to COVID-19's far-reaching psychological and behavioral effects, including psychological first aid, resiliency training, trauma and PTSD, complicated grief, bias, stigma reduction, and health inequities.

Provided our members with telepsychology resources, including a 3-hour CE workshop, as well as essential information regarding insurance billing and information regarding business disaster relief.

Developed viable partnerships with the American Psychological Association's DRN, the Red Cross, the Public Health Reserve Corps (PHRC), and other local and state agencies.

Provided ongoing consultation to the PHRC and was part of their task force on how to best serve those affected by COVID-19.

Developed a web-based resource center with articles and publications by our members and other professionals that will be helpful to members and to the general community and public. Click here to visit our COVID-19 resources; we made additional practice-oriented resources available to members.

Engaged our members in sharing their expertise and consulting with other professional agencies, frontline and essential workers, and all those affected by the COVID-19 pandemic via teleconference calls and other venues.

Hosted a Town Hall for our members on the pandemic and anti-racism, and took action on items raised in this forum.

Created a support group for members around issues related to COVID-19, their practice, and additional challenges.

Established a pro bono database of WSPA DRN volunteers for frontline and essential workers, which includes our providers' expertise and geographical location.

Created a DRN listserv for our members to share information, and volunteer and training opportunities.

Offered Health Support Training at our fall virtual convention to train members to train lay people to enhance community resilience through simple, non-clinical techniques.

Responded to media requests to discuss the mental health implications of the pandemic, and participated in a live call with a state legislator to provide information on mental health issues and answer questions related to the pandemic.
How the Washington State COVID-19 Vaccination Plan Relates to Psychologists
Dr. Samantha Slaughter, our Director of Professional Affairs, has started fielding questions from members about vaccination plans, and this was also a topic of conversation on the listserv earlier this week of 12/28/20 (If you'd not on the listserv, please email Office Manager Sierra VanderHoogt at wspa@wspapsych.org)
We want to share some pertinent resources:
Here is Washington State's Interim COVID-19 Vaccination Plan (see p. 30 for helpful graphics on vaccine distribution).
APA has been advocating that psychologists who provide in-person services without a comparable alternative (e.g., psychologists practicing in hospital or residential settings) be included in Phase 1 vaccine administration. We are lucky as a field that telepsychology produces comparably good outcomes to in-person care for many of the people we serve.
Psychologists have been at the forefront of using our science to inform vaccine distribution. At least one of the authors of the National Academy of Medicine's Framework for Equitable Allocation of COVID-19 Vaccine is a psychologist! This is the framework our state used for the plan linked above.
In the listserv discussion, our outgoing president Dr. Julia Mackaronis noted the following, "To me, the question of advocating for psychologists to receive the vaccine is an interesting one, because it is intertwined with the question of who else in the communities we serve might need advocacy for vaccine distribution. For example, psychologists serve people with low-paying jobs that can't be done remotely, resulting in chronic risk of COVID-19 exposure often combined with insufficient healthcare coverage, and we also serve Black and Latinx people, who have demonstrably higher infection and mortality rates from COVID-19 (not to mention that people of color are overrepresented in low-paying jobs). One of our ethical principles is justice, and it is my personal belief that a truly just and equitable vaccine distribution plan would mean that psychologists who are in relatively privileged positions are not prioritized above non-psychologists in less privileged positions that therefore confer greater COVID-19 risk."
Of course, there are also psychologists who are at greater COVID-19 risk for a variety of reasons unrelated to professional practice (e.g., age); please see our state's plan above for how people with various risk factors are included in the rollout.
Dr. Slaughter will provide additional updates regarding vaccine distribution as they are available, and if you are interested in these issues, please consider joining our Disaster Relief Network!
Committees Provide Member Opportunities


It is said your membership satisfaction is related into what you put into it. Some members join WSPA for reduced rates for stand-alone workshops and conventions, DPA consultations for Premium and Platinum level members, Ethics and Legal consultation, and benefiting from legislative efforts. If you are yearning for more out of your WSPA membership, however, then participating on a committee will likely increase your membership enjoyment.

We reported on the amazing work our Disaster Relief Network has done responding the COVID-19 pandemic. Now learn about other committees that are also doing remarkable work. Click on the committee name to link to their webpage.
Ethics is one of WSPA's long-standing committees. They meet once a month to review member requests on ethical issues. The committee doesn't just provide consultation on ethical issues, but are a resource for thoughtful decision-making for facing ethical issues. For years, all members of the Ethics Committee have been located in Spokane, but in 2019, they welcomed the Dr. Connie Beck, who lives in Tacoma, and began meeting by Zoom. Three committee members, Pamela Ridgway, Ph.D, Stephanie Kuffel, Ph.D, and Carol Moore, Ph.D., are available to take peer-to-peer member consultations. If you are interested in joining the Ethics Committee, please contact Committee Chair Laura Asbell by email at laura@asbellhealth.com.
The Early Career Psychologists (ECP) committee is another long-standing committee led by Sharon Young, Ph.D., with committee co-chairs Lynda Hernández, Ph.D., and Bethany Balkus, Psy.D. For many years, the ECP holds a Newly Licensed Psychologists (NLP) Celebration to welcome those who had been licensed within the past two years to the field of psychology.

This year the NLP Celebration was held virtually on November 20th and had the highest attendance in the past three years. Examining Board of Psychology (EBOP) Vice Chair, Dr. Florence Katz-Burstein, attended to welcome NLPs, speak about the EBOP, and answer any questions. The celebration was followed by a free 1 CE ethics workshop presented by WSPA's Legal Committee of Stephan Feldman J.D., Ph.D. and G. Andrew H. Benjamin, J.D., Ph.D., ABPP.

Staff envisions this event continuing virtually to attract NLP from across the state, even if a hybrid version with an in-person event is developed.
Grad Students (WSPAGS)
The WSPA Graduate Students (WSPAGS) was another committee that was revived in 2020 by Trustees Dominika Breedlove Psy.D., Lynda Hernández, Ph.D., NCSP, and board president Julia Mackaronis, Ph.D. In September, the WSPAGS committee hosted a 1 CE titled Life After Graduation: Review of the Licensure Application Process and Exams. The committee then began to plan a virtual poster session that would take place after the convention but decided it was best to allow more time and rescheduled it to February 5, 2021 from 12-1:30 PM. All WSPA members are welcome to view the virtual poster session. Information and links can be found at this link: https://wspapsych.org/2020fcposter.php

In November, Bethany Balkus, PsyD. L.P. took over as committee chair and is looking forward to 2021.
Summer Town Hall meeting gets into Good Trouble
In July, WSPA hosted a Town Hall with 2 topics that could be discussed in breakout rooms simultaneously, and 44 members attended. One breakout room allowed members to talk about how they were adjusting their practice to COVID-19. The second breakout room, attended by a majority of attendees, discussed ways for WSPA to become an anti-racist organization, in response to the killings of multiple Black Americans this year, often at the hands of law enforcement such as George Floyd, and related civil rights protests.

The result of the Town Hall was that members who have transitioned to telehealth, appreciated being able to share issues and best practices for providing therapy on a new platform as well as the desire to revive WSPA's Diversity Committee that had been dormant for a number of years. The committee began meeting on a regular basis, has a listserv for its members, and developed a landing page with the committee's mission statement and a list of diversity and equity resources.

During the development of the committee's mission statement, it was also decided to rename the committee the Good Trouble Committee, as a nod to civil rights activist and U.S. Representative from Georgia John C. Lewis, who passed away in July. In March 1965, Lewis suffered a broken skull as he attempted to march across the Edmund Pettis Bridge in peaceful protest for civil rights. He attended the 55th anniversary of that march in March 2020 and remarked, "Get into good trouble, necessary trouble, and help redeem the soul of America"
Speaker's Bureau

As the COVID-19 pandemic continued into the fall, the WSPA office received two media requests to interview psychologists about the state of mental health in Washington. APA ended support for Public Education Coordinators for state psychological associations a few years ago and the office was often scrambling to find members to fulfill such requests. WSPA thus formed a Speaker's Bureau of members who could speak on psychology generally or their areas of expertise, with input and support from our DPA and board members as desired. If you are interested in being on the WSPA Speaker's Bureau, please go to this link and provide your information.
WSPA Transition to Online CE Workshops and Fall Convention


As our members transitioned to telepsychology, WSPA's staff began the same transition to online CE workshops and exploring how to create a virtual convention. This report will not go over the various topics and speakers of workshops and the convention; instead, we will report on the business end of the workshops and conventions.

During the summer, three stand-alone workshops were presented online and were well-attended. These workshops gave staff the opportunity to learn the differences between a Zoom meeting and a Zoom webinar. The online attendance was 40-70% higher than in-person workshops, typically averaging 30 attendees, which helped push our CE event income to 150% of the 2020 budget.

WSPA's staff also began the research to hold a virtual convention. Other state associations were doing the same and sharing what they had learned. Just like a live convention, a virtual convention takes a lot of coordinating and having multiple Zoom accounts was a small part of the planning. Almost all state associations turned to 3rd party online convention platforms to host their conventions, but those platforms came with very steep set-up fees and a cut of registration fees. WSPA Executive Director, Marvo Reguindin, learned that the 3rd party convention fees would cost upwards of $15,000! Fortunately, WSPA's membership web platform had recently introduced a virtual convention module and Marvo decided to give it a try. His staff was familiar with WSPA's website programming and it would give them a lot of control to make last-minute changes and customize the convention platform to meet our needs. Plus it would cost much less than $15,000 and WSPA would retain all registration fees.
The registration side of the convention was programmed by WSPA Office Manager, Sierra VanderHoogt and featured a personal convention portal that allowed attendees to review and change the workshops they had signed up for and join the online trainings. The portal also provided links for attendees to take their CE evaluations.
Staff knew that many people would have questions, so decided to host a virtual Zoom office each day of the convention for attendees to drop in to ask questions.
The convention graphic and theme reflecting a change to a virtual format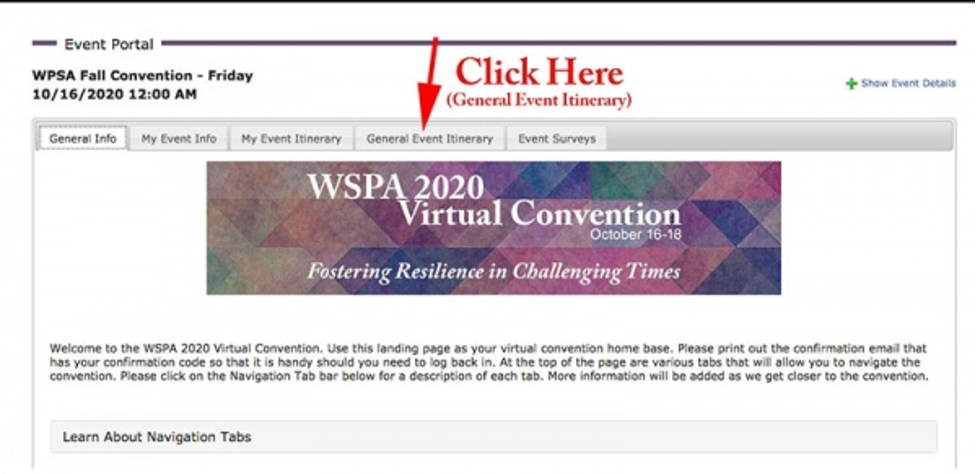 Personal event portal allowed attendees to have all information in one area.
The virtual convention also allowed WSPA to feature speakers from outside of the area. The Keynote speaker was from New York and we were able to get speakers from Delaware, Alaska, and California. In addition, we also had attendees from Arizona, California, Nevada, Oregon, and Idaho. Overall, the reviews of the convention were very positive, with many saying the topics and quality of the presentations kept their attention the full day without experiencing Zoom fatigue. The speakers and their topics can be found at this link: https://wspapsych.org/2020fcworkshops.php
Dr. Doug Tynan presenting Diabetes and Mental Health from his home office in Delaware
From a financial perspective, the Virtual Convention was a major success. Given major expenses of in-person conventions like catering and equipment rental, such conventions are typically revenue-neutral at best .Because of this, WSPA does not budget our convention to be a major income stream; instead, conventions are seen as a branding and membership recruitment event. Hosting our own virtual convention versus using a 3rd party online platform changed that equation in 2020. Attendance for the online convention was a little lower than an in-person convention, but the expenses were also 46% lower which realized a net gain for the first time. The potential to increase attendance for 2021 is high now that we have the template of a virtual convention established. At this point, we do not know if health and distancing restrictions due to the COVID-19 pandemic will allow a live convention as we've done in the past, but we do know that including virtual workshops will be part of our future conventions.


What some attendees had to say about the 2020 Virtual Fall Convention:

"Loved the conference this year! You all do such a great job that I have now attended several despite living and working in Oregon!"

"This was an excellent training, and we are so lucky to have these experts in our state and part of WSPA. Thank you!"

"I have to say that Dr. Ortiz is brilliant, and this has to be the strongest CE I have taken in years. Frankly, I think the video conferencing is better than live, though of course meet and greet is missing."

"Thoroughly enjoyed this topic, along with the speaker. Dr. Ortiz is an incredible researcher and equally engaging speaker; it made me forget we were in video rather than in person. I'm thankful to WSPA for having such a powerful minority voice like mine to speak on behalf of equitability for all."

"Another amazing conference. I have a suspicion that our new normal of online conferences is somehow affecting the quality of the presentations --- for the better! Why is that? In any case, I love it. I didn't want to leave the sessions."

"Excellent. Such a great topic. The videos providing a visual comparison of different presentations --invaluable! I so appreciate the providers/speakers' compassion and approach on this topic, so many folks are maligned by medical providers. I work at the VA and we somewhat regularly have presentations that fit in the FND category, so this is really useful info."
Chapters Become Active Via Zoom
Chapter 1
Chapter 1 in Spokane and other eastern counties continues to be WSPA's most active chapter. This year's chapter president is Emily Crawford, Psy.D., who transitioned chapter meetings to Zoom meetings. Chapter 1 provides a free 1 CE training during their 2-hour meetings.
Chapter 3
Chapter 3 became active thanks to the efforts of C.J. Swanlund, Psy.D. This chapter also meets monthly by Zoom and members report they enjoy being able to network and share practice issues, books they have read, and just being able to connect with others in their area. Chapter 3 has a listserv members can join.
Chapters 4 and 5
Chapters 4 and 5 have not yet begun meeting but both have list servs and would benefit from a member in each area to organize a first meeting. If you are interested in organizing your chapter meeting, please do the following:
Set a date and start time for a 90-minute meeting. The meeting may only last 60 minutes but it is better to end early than have attendees leave if the meeting goes past 60 minutes

Inform Office Manager Sierra VanderHoogt (WSPA@WPSApsych.org) of the date/time. She will check with the active chapters to see if a current or past chapter president is able to attend your first meeting to provide input. Sierra will send an email out to all members in your chapter to attend.
Organizers can adopt this short agenda to start their first meetings.
Introduction by organizer

Allow each attendee to introduce themselves, where they work, any specialties, how long they have been with WSPA

Introduction of Active Chapter guest, if present

Discussion items:

What would they like to see your chapter do for meetings (open discussions, free 1CE trainings, etc.)

What is an ideal meeting day and time and how often would they like to meet?

Would they like to meet in-person once COVID-19 restrictions allow for group meetings?
Some members in Chapter 2 have been networking with Chapter 1 and we encourage those without an active Chapter to participate in Chapter 1 or Chapter 3 meetings. To begin participating with an active chapter, log in to your WSPA account and click on the Communications icon. Then choose Message Boards and opt into one of the Chapter message boards, which means that you will receive emails sent on the related listserv.
WSPA Receives a Second Grant from APA to Support RxP Efforts
by: David Shearer Ph.D.

In August 2019, the Committee of State Leaders (CSL) awarded the Washington State Psychological Association (WSPA) an APA Services Inc. grant in the amount of $5,000 to help pay for expenses related to advocating for prescriptive psychology in our state (RxP). We are pleased to announce that the CSL has awarded WSPA a new grant in November 2020 in the amount of $10,000 to continue to pursue our efforts to bring prescribing psychology to Washington state.

Since receiving our first grant from APA we have made great progress. In the past year, the WSPA RxP Workgroup has been busy reaching out to stakeholders, presenting at conferences, submitting a proposal to the Department of Health (DOH) as well as a number of other activities. We received a draft report from the Washington State DOH in September that made it clear we needed to make some changes to our bill and clarify our position in a several areas. We will use the final report from DOH, expected in December 2020, to guide our efforts when addressing concerns and questions that legislators might have about the safety of expanding the scope of our practice, the type of rigorous training we receive, and the importance of requiring that prescribing psychologists coordinate and communicate with primary care providers.

In an exciting development, Dr. Steven Curtis has been approved by Antioch University in Seattle to establish a master's degree program in clinical psychopharmacology (MSCP) starting in Fall 2021. This program will provide the necessary education for those training to become prescribing psychologists in our state.

The WSPA RxP Workgroup conducted three educational webinars, two for psychologists, and one for stakeholders. The purpose of the webinars was to educate both psychologists and stakeholders about what prescribing psychologists do, how they are trained, where they are working and how they can increase access to consumers in our state. The Workgroup was also invited to present at the 2020 National Alliance on Mental Illness (NAMI) Washington State Conference. The two prescribing psychologists and primary care physician who presented were warmly received. WSPA will continue outreach efforts to stakeholders and psychologists alike throughout the 2021 calendar year.

To better reach our WSPA members and provide them with information about RxP efforts we have established an RxP page on the WSPA website. In addition, Dr. Brian Imber, a Seattle area psychologist, has helped establish an RxP Listserv for WSPA members where we can discuss psychopharmacology and RxP. Our RxP Fundraising Committee, Dr. Shelly Mackaman, Dr. Andy Benjamin, and Dr. Shep Salusky are actively working to raise money to fund our pursuit of RxP in Washington.

One of the most important decisions made by the RxP Workgroup, the WSPA Board, and our bill sponsor, Rep Nicole Macri, was to run our bill in 2022 rather than 2021. While we were prepared to introduce the bill in the coming year, the 2021 Washington state legislative session has been reduced greatly due to the pandemic. As a result, waiting until 2022 is the best strategic plan.

The WSPA RxP Workgroup continues to build support and momentum. We never lose site of the goal of this legislation; to provide consumers in our state with greater access to safe and comprehensive behavioral health care. Any legislative change, but especially scope of practice changes, are time consuming and expensive. We are greatly indebted to APA for their generous grants, without which we would not have been able to make the progress we see today.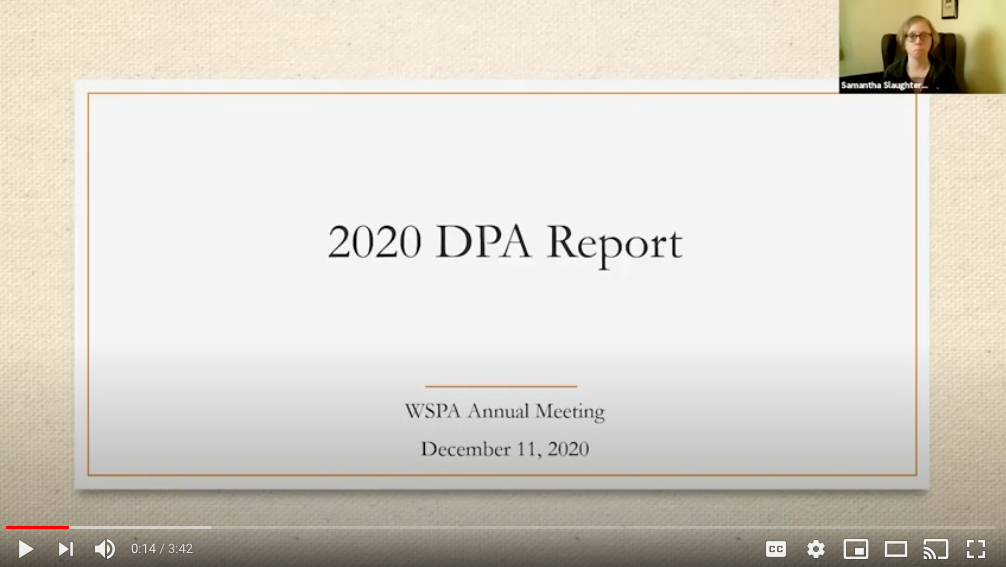 2020 Washington Psychologist Awards
This year the Washington Psychologist Awards looked a little different meeting virtually, but we were still able to celebrate the individuals and organizations who have contributed meaningfully to the mission of WSPA, which is to support, promote and advance the science, education, and practice of psychology in the public interest. As with everything this year, it turned out that a majority of winners were involved helping in some way with COVID-19, including an award the board kept secret for Trustee Debbie Shapiro, Psy.D. for her outstanding Disaster Relief work on COVID-19.

2020 WA Psychologist Award Winners

Distinguished Psychologist Award
Given in recognition of significant contributions to the field of psychology. This award recognizes outstanding professional contributions to knowledge, to applied psychology in professional practice, or in the public interest, while a resident of Washington State.

Winners: Team of Tona McGuire, Ph.D., and Kira Mauseth, Ph.D.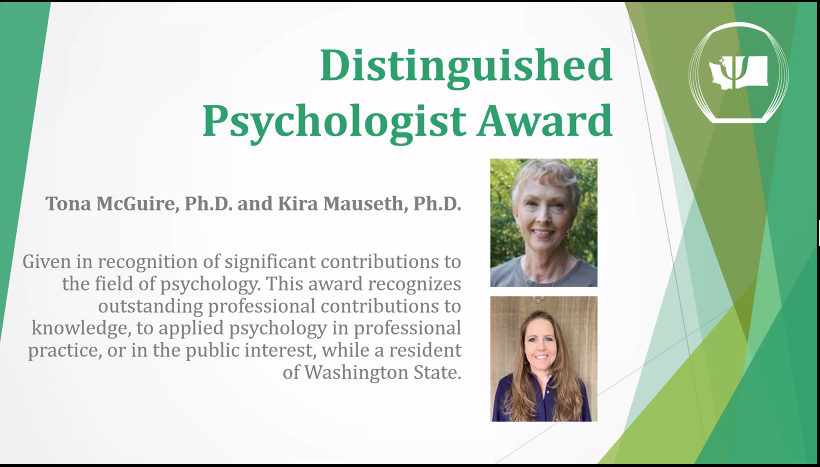 Andrew H. Benjamin Award
Given in recognition of an individual members outstanding and tireless contributions to the
Washington State Psychological Association.
Winner: Sharon Young, Psy.D.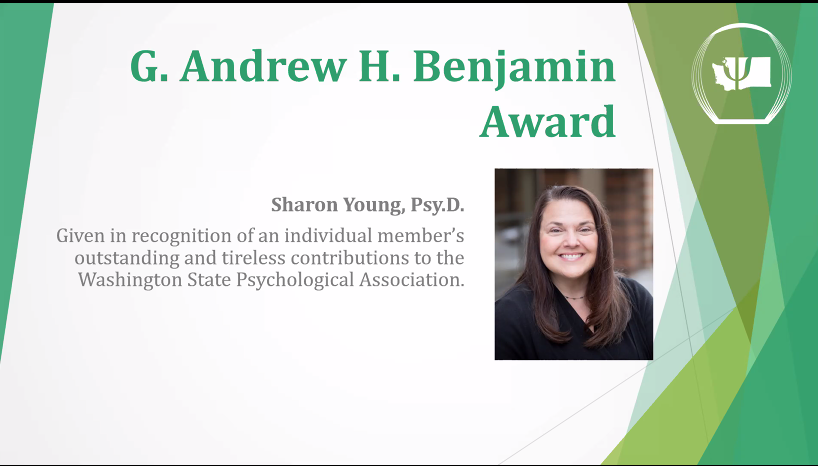 Social Issues Award:
Given in recognition of outstanding work to advance the mental health of the community and to apply psychology in the public interest.
Winner: Trevor Covington, M.S., C.E.M.
Mental & Behavioral Health Response Coordinator and Group Supervisor Division of Emergency Preparedness & Response Washington State Department of Health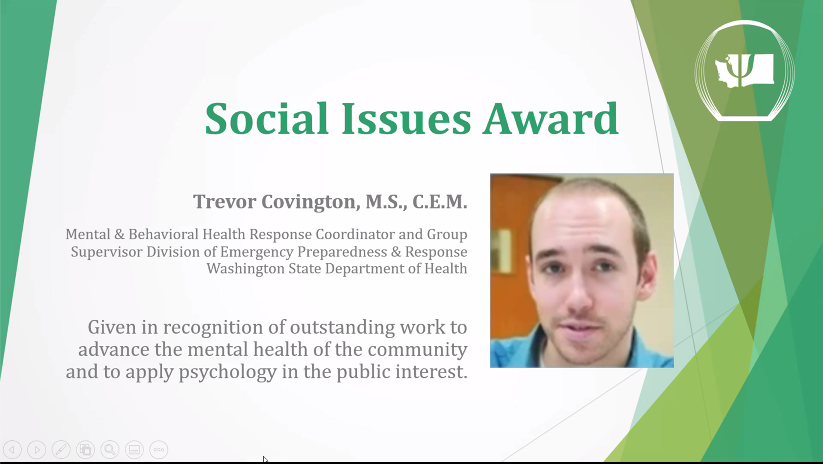 Legislative Service Award
Honors a Washington State elected official who has contributed to the psychological health of their community.
Winner: Senator Randi Becker, 2nd Legislative District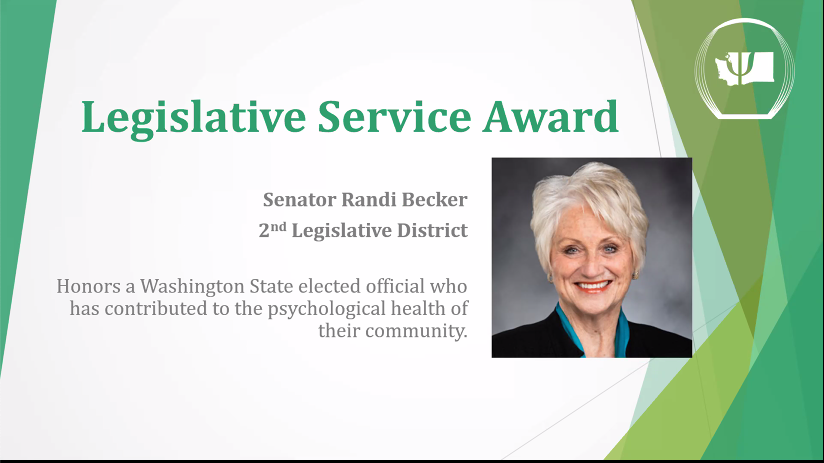 Distinguished Service Award
Given in recognition of outstanding work in support of WSPAs mission through some outstanding contribution.

Winner: Debbie Shapiro, Psy.D.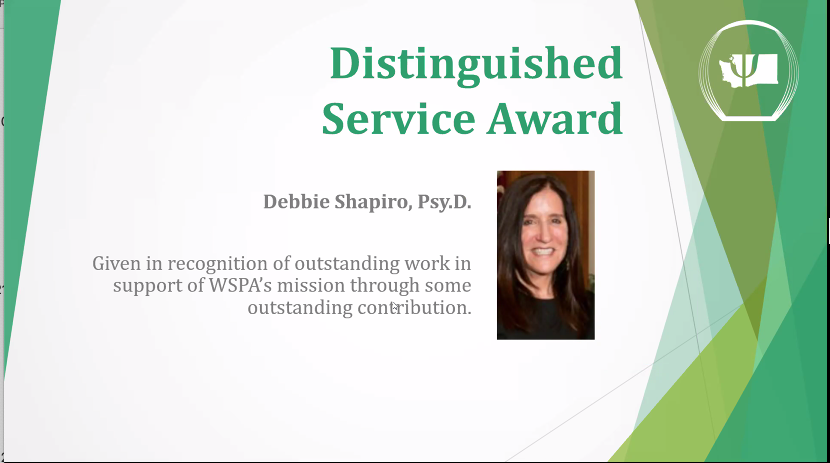 Presidential Service Award
Given to the out-going President of the Board, in recognition of the service rendered.
Winner: Julia Mackaronis, Ph.D.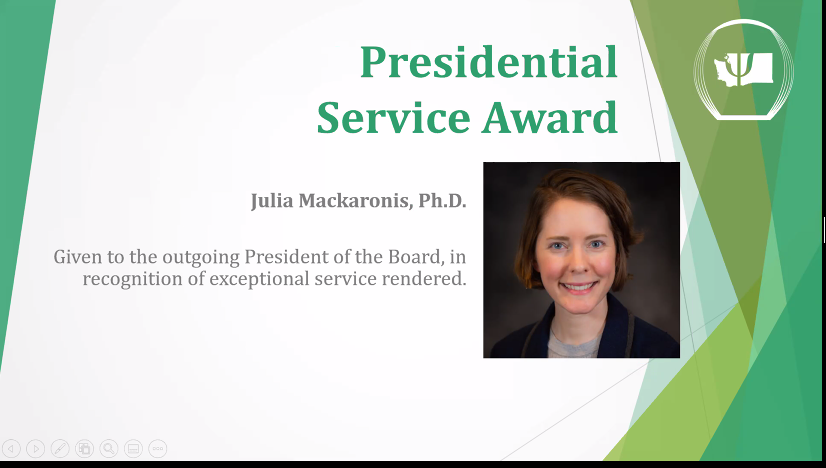 Membership and Finances on an upward swing!
We want to end the 2020 Year in Review on a very positive financial report.
Like most state psychological associations, WSPA's primary income stream is membership, and for us, CE workshops are a distant second. In 2019, the board took a mid-year budget review and made some very hard decisions to make mid-year cuts to professional services: management, DPA, and lobbying in order to end the year in the black. The cuts and steady membership income resulted in a positive net financial gain for the first time in over ten years.

The financial boost from 2019 helped set the stage for another year of growth in 2020. When the COVID-19 pandemic hit, Executive Director Marvo Reguindin, began to see posts on the E.D. Listserv from other state psychological associations reporting a drop in membership renewals and cancelled CE workshops. He became concerned about a drop in WSPA's revenue streams and how it would affect the budget. Fortunately, the drop in revenue never happened.

WSPA's quick response to provide members with information about COVID-19 showed them that WSPA was being proactive about the pandemic and had them in mind. When staff transitioned three summer CE workshops to online learning, the registration numbers more than doubled and resulted in a large revenue gain, with expenses being kept lower than budgeted. The virtual Fall Convention was budgeted to be revenue neutral, but it also realized a revenue gain with expenses being kept extremely low.
Annual membership renewals rose to 98% of budget and new memberships were up an amazing 215% of budget. Final annual expenses for 2020 are forecasted to be 76% of budget to end the year with a net operating revenue of 435% of budget!
We know that 2020's financial position will be an anomaly for WSPA so we will continue to be fiscally conservative in budgeting and spending for 2021. It is especially important for us to use the revenue to rebuild WSPA's cushion for financial emergencies, which had been depleted over the past 10 years. We owe our members a lot of gratitude for supporting WSPA in such a big way to make WSPA financially healthy these past two years, and especially in 2020.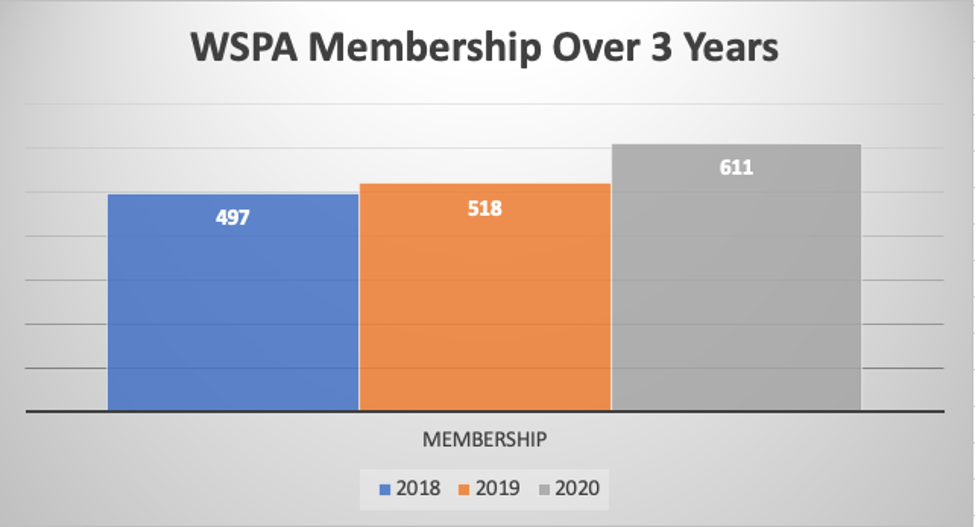 93 new members in 2020 representing an 18% growth in membership from 2019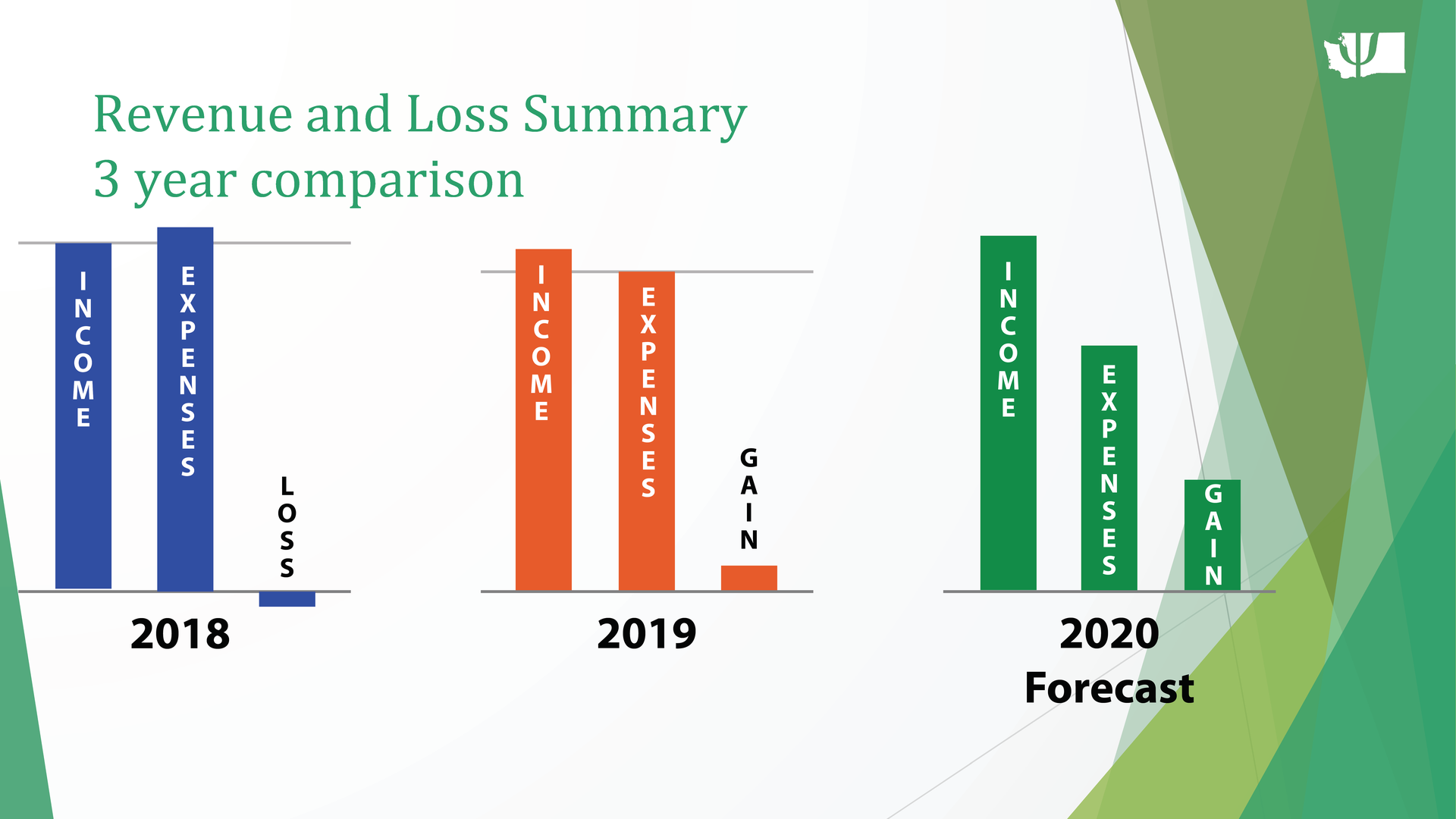 The 3 year trend of increase revenue and lowered expenses has resulted in a 435% net revenue for 2020